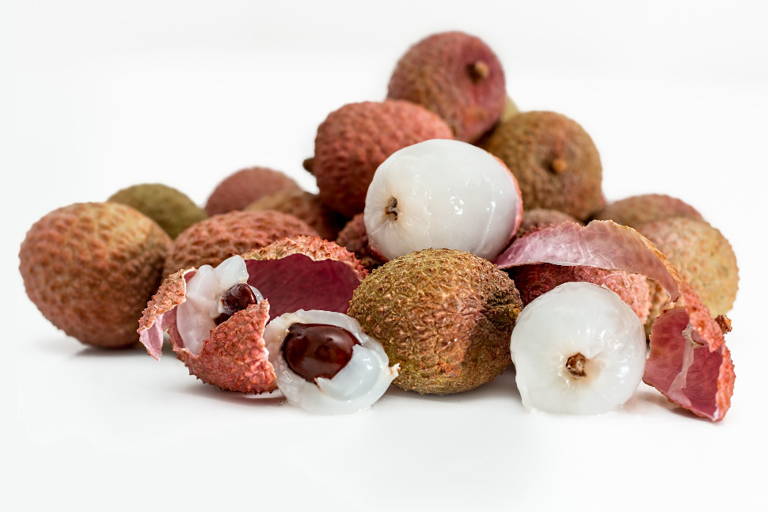 Introducing Lychee. But Wait. What Is Lychee?
Four Elephants is proud to introduce a new product to our line up - lychee fruit! In every can, you'll find premium lychee that is certified non-GMO, gluten-free, peeled, pitted, in syrup, and ready to eat! Because lychee is new to a lot of North Americans, this post will help demystify this food that we find delicious.
Where Does Lychee Come From?
Lychee is pronounced LAI CHEE. While the fruit originated in southeast China, it is now grown in many subtropical regions, including Thailand, where Four Elephants sources the fruit (and a lot of our other products, including Jasmine Rice).
What Does Lychee Look Like?
The inside of the lychee fruit is milky white, but on the tree, the skin is tough and spiky and starts off yellow then gradually becomes pinker until it's bright red. As lychee ages, the skin turns brown. When you buy from Four Elephants, you can count on perfectly ripe lychee every time.
Is Lychee Good For You?
We're not ones to boast about nutrition or health benefits of foods. We leave that to the doctors and nutritionists. However, lychee is quite high in vitamins B and C. Like with any food, lychee is best when it's part of a varied diet made up of mostly plants.
What Does Lychee Taste Like?
A lot of people compare lychee to pears because it has a similar texture and floral flavor. However, we'd argue that lychee has a more subtle flavor than pears and a softer texture, too.
How Do You Eat Lychee?
If you were to pick lychee from the tree, you'd want to peel the thick skin and remove the pit before you eat it. But when you buy from Four Elephants, the lychee is ready to eat.
You could just pop one into your mouth, but the fruit is pretty moist so it's best to use a utensil. Most commonly, you'll see lychee used to flavor juices, cocktails, and ice creams, but it's also a great topping for salads and desserts.
Where To Buy Lychee?
Right here! Find 20 oz cans in the Four Elephants shop. While you're there, check out our selection of noodles, rice, fish sauce, and more.