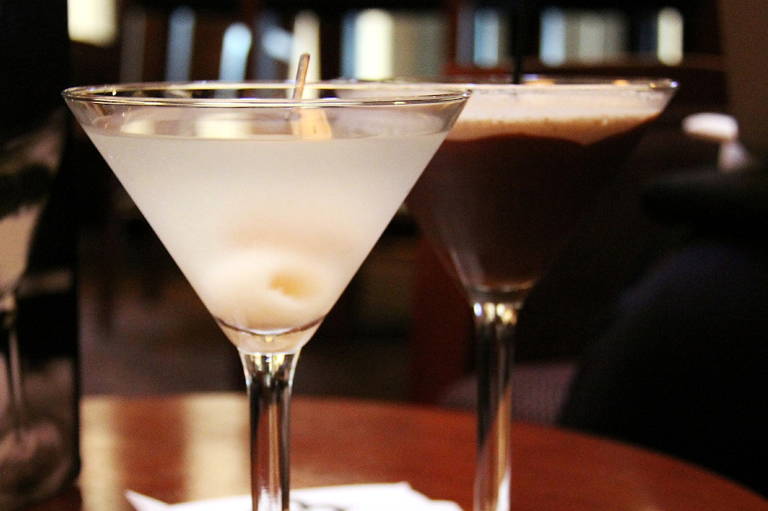 3 Ways To Enjoy A Lychee Cocktail
While lychee is a great touch to any dessert or salad, or even a snack on its own, one of lychee's biggest claims to fame is in the cocktail. Here are a few recipe ideas for your celebrations.
Lychee Martini Recipe
Lychee and vodka are meant for each other. Some lychee vodka martini recipes call for a lychee liquer or a lychee juice, but we are fans of simplicity and opt for syrup from the can instead. Not only does that make this lychee martini recipe easy, but it also provides just the right amount of sweetness and flavor, especially when you choose Four Elephants Premium Lychee in Syrup.

- 2 oz. vodka
- 1 oz. lychee syrup (from the can)
- 1 squeeze of fresh lime (or splash of vermouth if you prefer that)
- lime zest
- lychee for garnish
Instructions: Open your can of Four Elephants Premium Lychee in Syrup. Strain the fruit, but reserve the syrup in a sealable food container so you can refrigerate the leftovers (if any). Combine vodka, syrup, and lime juice. Shake on ice if you want it cold or stir. Garnish with lime zest and as many lychee as you want.
Note: If you prefer a less sweet and/or stiff drink, you can always add water or ice cubes.
Gin Lychee Fizz Recipe
The "fizz" is a classic cocktail with many variations. In our recipe, we use the lychee syrup out of the can instead of simple syrup, giving it more flavor. You could omit the lemon, but we like the combo of flavors.
- 2 oz. gin
- 1 oz. lychee syrup
- 1 squeeze of fresh lemon
- 1 egg white
- soda water
- lychee for garnish
Instructions: Combine gin, syrup, lemon, and egg white in a shaker with no ice so that the ingredients combine well and you get that nice froth. Shake hard. Pour in the glass leaving enough room to top with soda water (for the fizz) and a lychee garnish if you choose.
Lychee And Pear White Sangria Recipe
Most sangria recipes start off with an inexpensive fruity red wine. With lychee as the star, we argue a very cold and chardonay (lots of fruity notes in a chardonnay) is also a good choice. Here's our lychee sangria recipe:
- 1 can Four Elephants Premium Lychee in Syrup
- 1 bottle chardonnay
- 2 cups ice
- 1 cup soda water
- 1 pear, sliced thin
- 1 lemon, sliced thin
Instructions: Dump the whole can of lychee and syrup into the serving bowl or pitcher followed by the wine and ice. Vigorously stir to combine. Add the soda water and fruit slices. Very gently stir again, this time only a few times around, and serve.
Note: There's flexibility in sangria. Take away or add ingredients to suit your tastes. For instance, many other recipes call for elderberry syrup and limes. Whatever you do, though, don't forget the lychee!
Bonus Cocktails: Lychee Loves Roses
We've seen lots of fun lychee cocktail recipes that pair this delicate fruit with rose. This recipe from BBC Good Food calls for garnishing your martini with a petal, and this mimosa recipe from Kitchen Confidante calls for rose water. What a match!

And if you want even more lychee, check out one of our other blog posts that talks about what lychee is and some other ways to enjoy this tropical fruit.