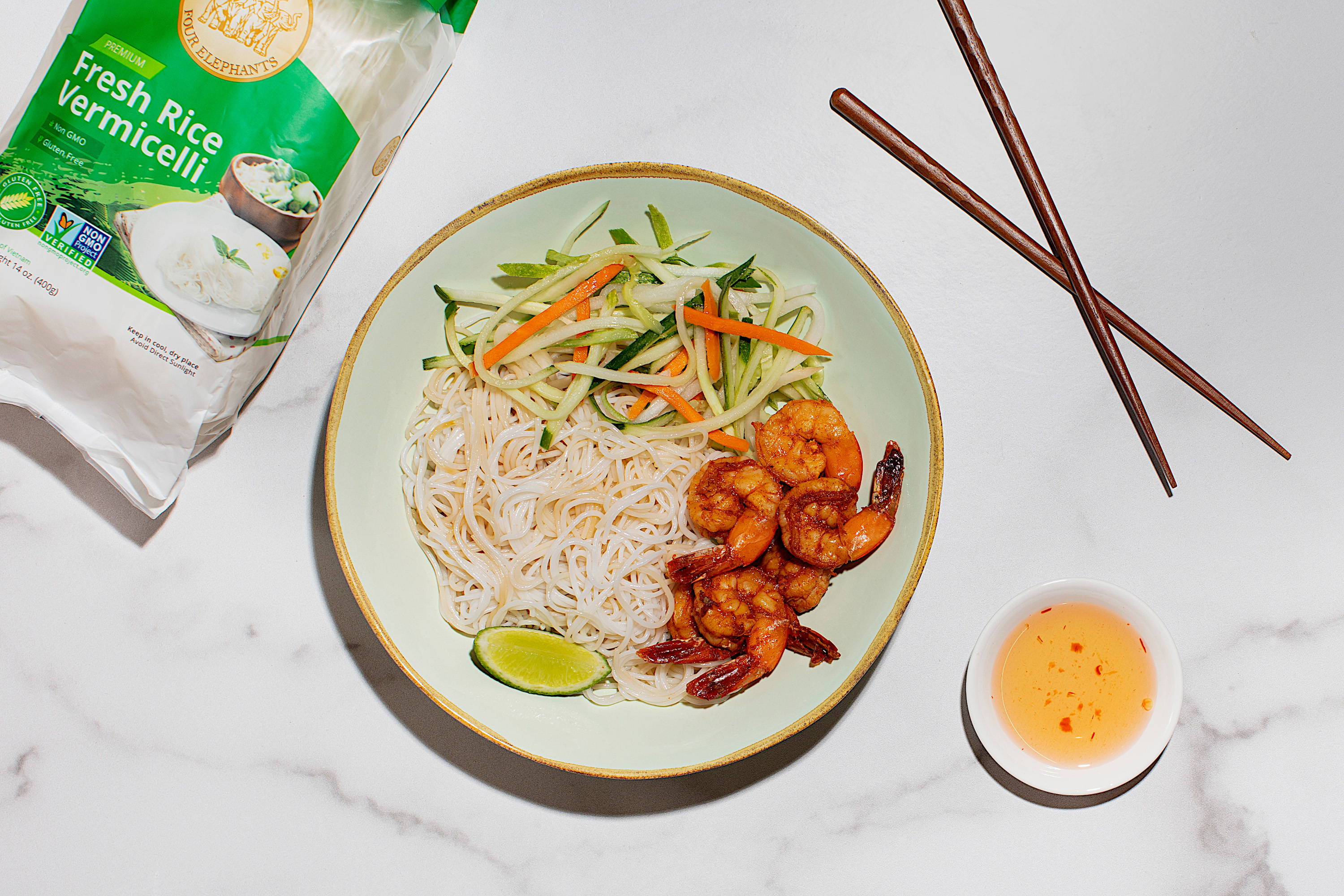 The Next Dish You Have To Try Features This Noodle
While noodle dishes are a delicious Asian staple, if you're new to cooking Asian-inspired cuisine, the variety of noodles and their purposes may be overwhelming. Let's break down one traditional noodle you may want to try experimenting with and enjoying, rice vermicelli!
Rice vermicelli is a naturally gluten-free rice-flour noodle commonly used in Chinese, Thai, Vietnamese, and other Southeast Asian cuisines. The noodle originates from the southern
regions of China.
Vermicelli is round, long, and thin, unlike other noodles like rice, which are flat. It is commonly compared to spaghetti. They tend to be lower in cholesterol, saturated fat, and sugar when compared to egg noodles.
Rice vermicelli noodles are commonly cooked in boiling water, then rinsed with cold water and served with broth. To ensure the best preparation, use the instructions on the packaging.
A simple preparation option combines an assortment of your favorite vegetables, meat, seafood, and seasoning in oil before adding boiled noodles and serving a delicious stir fry.
It is also commonly used as a noodle in spring and summer rolls and is used to create more traditional Asian and Southeast Asian dishes.
Vietnamese Rice Vermicelli Noodles with Spring Rolls (Bun Cha Gio) is simple, fresh, crunchy and delicious. It's a light yet substantial meal, perfect for summer or anytime.
Kanom Jeen Kang Keaw Wan is a Thai green curry with rice vermicelli noodles. Green curry is considered the most popular curry in Thai cuisine. The green color of Thai green curry sauce has become more vibrant over the years with the addition of makrut lime leaf and peel, and basil leaf.
Khao poon is a popular type of spicy Lao rice vermicelli soup made with pounded chicken, fish, or pork and seasoned with Lao ingredients such as fish sauce, lime, leaves, garlic, shallots,
and Lao chilies.
We encourage you to try one of these dishes or add summer rolls as your next appetizer! When you need high-quality, premium sourced ingredients for your next dish, visit