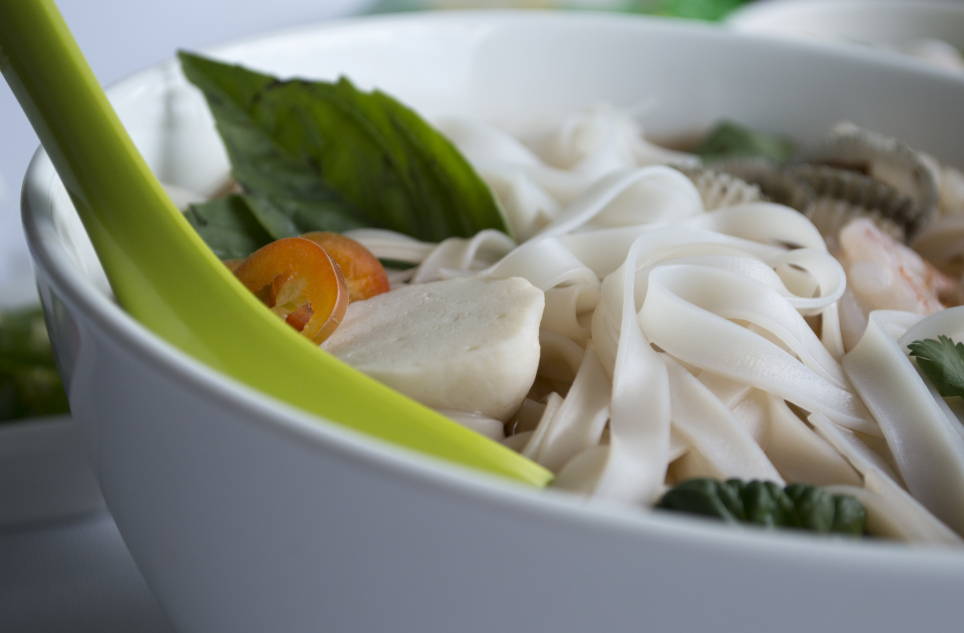 Frequently Asked Pho Soup Questions
Pho is a popular, and complex, soup comprised of broth, noodles, and beef (typically) or shrimp or chicken (less often) with a few garnishes on top. Pho is not a new dish, but it has become increasingly popular in the United States in the last few decades with pho restaurants popping up in even some small urban areas.
If you're curious about the soup your friends are talking about and can't get enough of on rainy days, or when that head cold crops up, or for Sunday brunch…or for anytime really, then this article is for you.
When And Where Did Pho Originate?
In the early 1900s, pho became a popular street food in Vietnam. In this very charming blog post from Viet World Kitchen, author Andrea Nguyen talks all about the history of pho, including how the dish arrived thanks to some Chinese and French culinary influences.
How Is Pho Served?
Most often, pho is brought to the table in parts. You'll get a big, wide bowl filled with very hot broth. Sometimes, especially if you order raw proteins, the meat will arrive on a separate dish and you will be responsible for placing it in the broth to cook. Similarly, you may add the noodles to the broth to soften and then finish with your garnishes. In other instances, it may arrive at your table fully or partially assembled.
How Do You Eat Pho?
It can be intimidating to try a new dish for the first time, but we say, "never fear"! Just dive in. Or you could ask the waiter. Most professionals are happy to share what they know. In the meantime, here are a few helpful tips.
Step 1: We like the advice given in this Food Republic article. Before you do anything, use your soup spoon to taste and savor the nuanced flavors of the pho broth.
Step 2: If you order raw meat, place the meat in the boiling broth to cook.
Step 3: Add your toppings and/or sauces without submerging the add-ons into the broth.
Step 4: Dig into the noodles and meat with chopsticks noticing how each bite is a little different depending on which garnish you take with your bite.
Step 5: Once you've finished the noodles and meat, pick up the bowl and slurp the remaining broth like you would the milk left behind in a cereal bowl.
What Are Pho Soup Ingredients?
In Vietnam, there are many ways to make pho. Some prefer it salty and others sweet. Many don't add much more than noodles, broth and meat whereas others will add all kinds of sauces and toppings.
You can vary the type of meat.
Pho ga = chicken
Pho bo = beef
Pho tom = shrimp
You can vary the garnishes.
Radishes
Cilantro
Chile slices
Mint sprigs
Bean sprouts
Thai basil
Lime wedges
Green onions
Fish sauce (It's in the broth, but you can always add more!)
Sriracha (Though some purists would shake their head "no")
What Is In Pho Broth?
Again, every recipe is a little different but these are some of the common flavors in pho broth:
Cinnamon
Star anise
Cloves
Cardamon
Fennel
Onions
Ginger
Fish Sauce
What Kind Of Noodles Are In Pho?
In Vietnam, pho is name of soup and also the name of noodles, which are rice noodles. Check out Four Elephants Rice Sticks for the perfect pho rice noodle.
How Do You Make Pho Soup?
You can make pho soup in a variety of ways. We've seen recipes for instant pots and the sous vide. We've also seen seasoning kits to make the process simpler, because it can be complicated and require quite a few ingredients. However, this recipe from the Food Network and this one from The Forked Spoon look doable.
If you try making your own pho, please head to Facebook and tell us all about it!