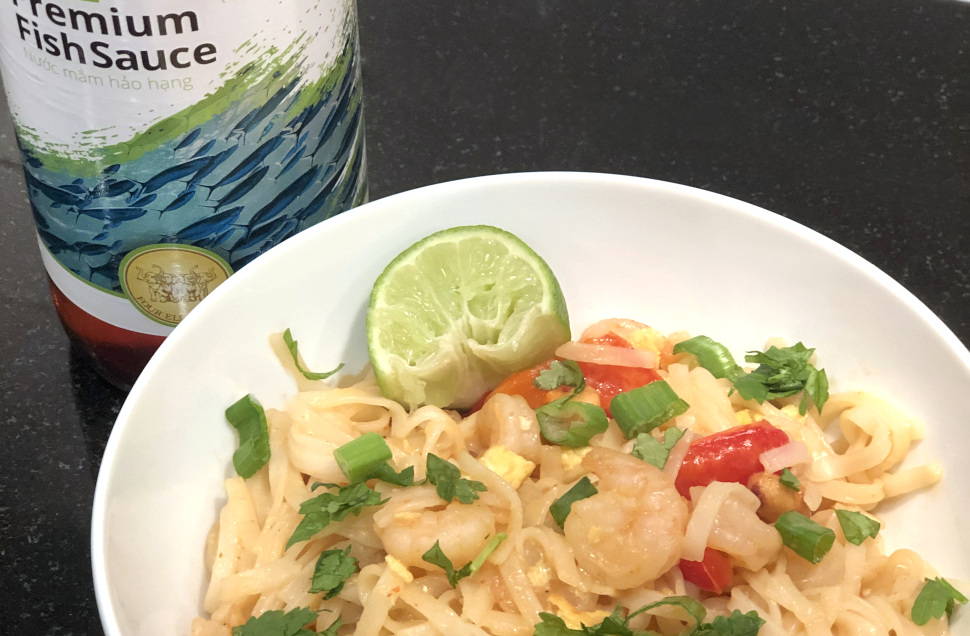 The Only Pad Thai Recipe You'll Ever Need

Pad Thai is a universally-loved Thai dish filled with sweet and savory flavors. When you have Four Elephants Rice Noodles and Fish Sauce to work with, you create an authentic meal, too. We especially like the crunch that the peanuts and bean sprouts bring and the brightness of the lime juice in the final step.
Ingredients

- 1 bag (16 ounces) Four Elephants Rice Noodles

- 4 tbsp vegetable or peanut oil, divided
- 1/3 cup peeled uncooked shrimp
- 4-5 cloves garlic, chopped fine
- 1 egg, beaten
- 3 cups fresh bean sprouts
- 2/3 cup unsalted peanuts, chopped
- 1 bunch green onions, chopped
- Few sprigs cilantro, chopped
- 1 lime, cut into wedges
Sauce Ingredients
- 3 tbsp Four Elephants Fish Sauce
- 1 tbsp soy sauce
- 4 tbsp light brown sugar
- 2 tbsp rice vinegar
- Hot sauce or finely diced chili peppers, to taste

Instructions
1. Soak Four Elephants Rice Sticks in hot (not boiling) water for 8-10 minutes. Drain and set aside.

2. While noodles are soaking, combine sauce ingredients.
3. Heat 2 tbsp. oil in a large saucepan or wok over medium-high heat.
4. Cook shrimp about 2 minutes (or until pink) then remove from pan.
5. Add garlic to pan and stir fry for 20 seconds.
6. Add more oil (if needed) and egg to the pan stirring constantly until cooked and broken into small pieces.
7. Add soft rice noodles and sauce to the pan and stir fry 1-2 minutes.
8. Add shrimp back to the pan along with 2 cups bean sprouts and heat through. 9. Remove from heat and toss for even mixture.
10. Top with peanuts, cilantro, green onions, remaining bean sprouts.
11. Serve immediately with lime wedge.

Notes
The shrimp will cook quickly so be sure not to leave on heat too long or you'll have rubbery shrimp. If you prefer another protein, like chicken or tofu, cook seperately and add to the mix with the bean sprouts to warm through. It's always ok to add additional veggies to the mix. We like to add red peppers.