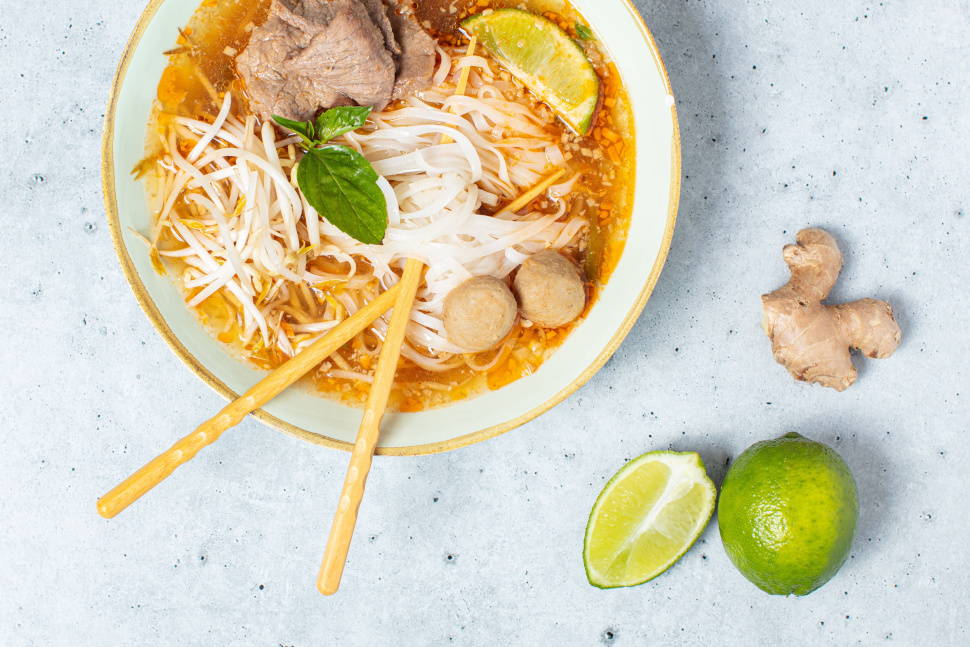 How To Make
Authentic Homemade Pho
Families all over the world love a delicious bowl of pho and you've likely seen the rise in popularity of the dish over the last several years. But what is it about this aromatic soup dish that so many people crave?
Pho is a Vietnamese soup dish made of broth, rice noodles, herbs, and meat or chicken. It was actually brought to Vietnam by the French in the 19th Century and over time, the Vietnamese made the soup their own. It's even considered the national dish of Vietnam. Pho is rich with spices and textures and is easy to modify to accommodate the season or your personal preferences.
While noodle soups are commonplace all over Asia, there's just something about pho that people love. Maybe it's the broth, maybe it's the unique combination of flavors, but whatever the case, this is a dish that will warm your belly and satisfy all of your taste buds.
To have your pho tasting just like it does at your favorite Vietnamese restaurant, you want to keep it authentic by using the proper ingredients. Making pho the right way also takes a fair amount of time. But we promise it's so worth the wait! Delicious pho is all about the details and using fresh, real ingredients is key. If you have access to an Asian market, consider purchasing all of your spices, herbs, and protein there. Your rice noodles are also a crucial piece of the recipe that really ties the whole dish together and Our authentic Rice Stick Noodles are the perfect, authentic choice.
All of this pho talk probably has your mouth watering and you're finally ready to dive into making your own, authentic homemade pho. Follow the recipe from Allrecipes below and you'll be enjoying this beloved dish in no time. Have fun with it and be sure to take your time. The perfect bowl of pho doesn't need to be rushed.
Authentic Homemade Pho
Takes
4 pounds beef soup bones
1 onion, unpeeled and cut in half
5 slices fresh ginger
1 tablespoon salt
2 pods star anise
2 ½ tablespoons fish sauce
4 quarts water
8 ounces dried rice stick noodles
1 ½ pounds beef top sirloin, thinly sliced
½ cup chopped cilantro
1 tablespoon chopped green onion
1 ½ cups bean sprouts
1 bunch Thai basil
1 lime, cut into 4 wedges
¼ cup hoisin sauce (Optional)
¼ cup chile-garlic sauce (such as Sriracha®) (Optional)
Step 1: Preheat oven to 425 degrees F (220 degrees C).
Step 2: Place beef bones on a baking sheet and roast in the preheated oven until browned, about 1 hour.
Step 3: Place onion on a baking sheet and roast in the preheated oven until blackened and soft, about 45 minutes.
Step 4: Place bones, onion, ginger, salt, star anise, and fish sauce in a large stockpot and cover with 4 quarts of water. Bring to a boil and reduce heat to low. Simmer on low for 6 to 10 hours. Strain the broth into a saucepan and set aside.
Step 5: Place rice noodles in a large bowl filled with room temperature water and allow to soak for 1 hour. Bring a large pot of water to a boil and after the noodles have soaked, place them in the boiling water for 1 minute. Bring stock to a simmer.
Step 6: Divide noodles among 4 serving bowls; top with sirloin, cilantro, and green onion. Pour hot broth over the top. Stir and let sit until the beef is partially cooked and no longer pink, 1 to 2 minutes. Serve with bean sprouts, Thai basil, lime wedges, hoisin sauce, and chile-garlic sauce on the side.