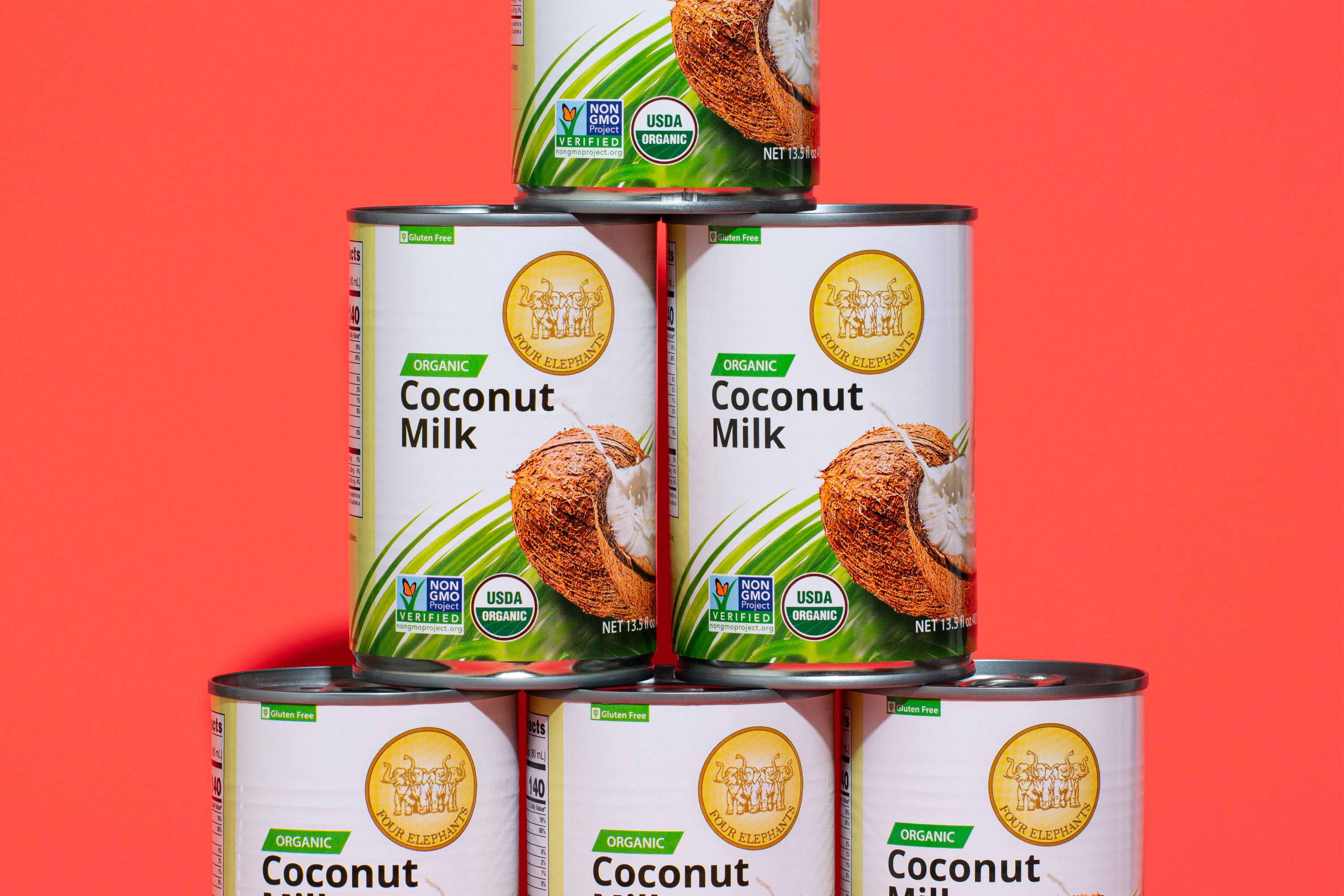 Health Benefits and Recipes for Coconut Milk
Health Benefits of Coconut Milk:
Coconut milk has a variety of uses, offers numerous health benefits, and is a tasty dairy-free alternative. Coconut milk is the thick liquid you get when you blend coconut meat with water and strain it. It contains one-third of the calories found in cow's milk, and half of the fat! It also has the lowest carbohydrate content of all non-dairy milks.
Incorporating moderate amounts of coconut milk in your diet may improve heart health and provide additional health benefits. Only one cup of raw coconut milk contains 7.46 milligrams of iron, a large percentage of the daily recommended amount. 90% of calories in coconut milk come from saturated fats, including medium-chain triglycerides (MCT). Some research suggests that MCTs can aid with weight loss and the process of metabolism. However, the small amount found in coconut milk may not have a direct impact on weight loss or metabolism. Lauric acid, which is the main fatty acid in coconut milk, is suggested to help reduce ulcer sizes, act as an anti-inflammatory, and support the immune system. Coconut milk may also be beneficial to individuals with normal or high cholesterol.
In addition to consumption, coconut milk has additional benefits when applied topically. Because coconut milk has high levels of Vitamin C, when applied to your skin, it can help with dryness, inflammation, itchiness, and even sunburns. Coconut milk is also a great natural alternative for a makeup remover.
Benefits Of Incorporating Coconut Milk In Cooking & Baking:
Cooking and baking with coconut milk adds additional flavor and nutritional value to any dish. Coconut milk does not contain any lactose, making it a great dairy alternative for those with lactose intolerance. Additionally, coconut milk has a long shelf life (roughly 18 to 24 months unopened) compared to other dairy alternatives. When substituting dairy milk with coconut milk, a one-to-one ratio makes the process easy. However, when substituting for heavy cream, be sure to use full-fat coconut milk.
*Makes 1 cup of dressing*
6 Tbs Four Elephants Organic Coconut Milk
3 Tbs fresh lime juice
5 tsp. Four Elephants Premium Fish Sauce
1 Tbs finely grated shallot
1 Tbs light brown sugar
¼ cup vegetable oil
Instructions:
1. Combine coconut milk, lime juice, fish sauce, shallot, and brown sugar in a small bowl.
2. Whisk until smooth. Gradually add oil, and whisk until emulsified.
3. Dressing can be made one day in advance, cover and chill.
Coconut Dulce De Leche (dairy replacement)
2 cans of Four Elephants Organic Coconut Milk
1 ½ cups (packed) golden brown sugar
½ tsp. coarse Kosher salt
Instructions:
1. Combine coconut milk, sugar, and salt in a heavy large skillet, and whisk over medium heat until sugar dissolves.
2. Increase heat to medium-high and boil, occasionally stirring, until the mixture is reduced to 2 ½ cups (about 20 minutes)
3. Transfer sauce to small jars.
4. Cool completely, then cover and chill. Keep for a month, chilled.
2 cans of Four Elephants Organic Coconut Milk
4 Tbs cocoa powder
4 Tbs sweetener (maple syrup or honey)
2 tsp. Vanilla extract
Pinch of salt
100 grams of dark chocolate
Instructions:
1. Pour coconut milk into a bowl and whisk well. Add cocoa powder, salt, and vanilla extract to the bowl, and whisk while mixing.
2. Whisk the mixture for a few minutes until it begins to thicken.
3. Once you have reached your desired consistency, pour into serving dishes and leave them in the fridge to set.
4. Let sit for at least 2 hours. Once set, top with chocolate shavings and serve.