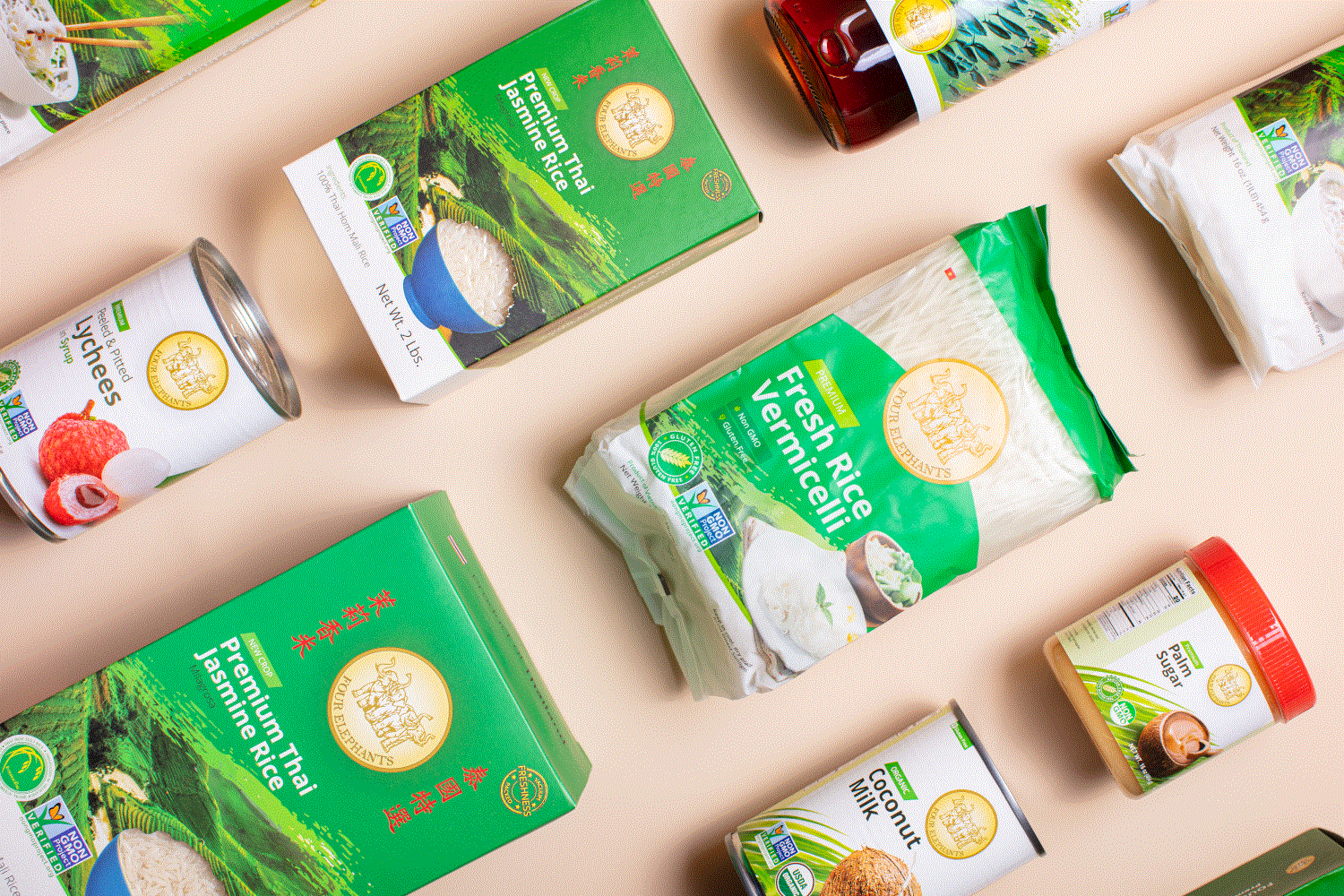 Authentic Dishes You Love Made With the Ingredients You Deserve
At Four Elephants Foods, we're committed to providing families with excellent, authentic, and delicious pantry staples. All of our Asian foods are made with ingredients you can feel good about eating without having to sacrifice on flavor. Whether you're cooking for one, or making a spread for friends and family, you deserve the highest quality products to make your culinary dreams a reality. Let us help you bring them to life.
We believe that the most important part of any dish is the way that it tastes. If it doesn't taste good, then what's the point? That's why our rice, coconut milk, fish sauce, and other authentic Asian staples are packed with flavor. If you're trying out a new recipe or making a life long favorite, you can trust that our products are the perfect way to enhance any meal. We source our ingredients directly from regions of Asia that are known for their commitment to quality and we want to share them with you.
Whip up a quick treat or take your time crafting the perfect meal, Four Elephants Foods will always be there to make sure your first bite hits the spot.
We're a family-owned business and we wouldn't want you to feed your family anything that we wouldn't feed ours. That's why we're dedicated to bringing you the best ingredients and products we can, at a price-point that you can afford. All of our products are certified non-GMO, gluten-free, nut-free, and are processed in a nut-free facility. We also intentionally source certified organic ingredients whenever possible and our coconut milk and 20-pound bags of
Jasmine Rice are certified organic by the USDA. In addition to this, we always want you to experience fresh food. That's why we purposefully choose high-quality packaging to ensure that your products remain fresh as long as possible.
Our foods are not part of a trend, fad, or misrepresentation of Asian culture. We only sell real, authentic, Asian pantry staples that you can depend on and love. Whether you've grown up eating authentic Asian dishes, or you've grown to love their unique flavors, you can trust that
Four Elephants will always bring you genuine, Asian foods.
So often, other brands will alter their products to fit a more Americanized idea of what Asian food looks or tastes like. But you can trust that we will always provide you with the real deal. We want you to experience these foods the way in which they were intended. No trendy alterations, just genuine products that we work hard to share with you and your family.
You shouldn't have to compromise on the Asian foods you love. Four Elephants' mission is to bring you the foods you crave while keeping them true to Asian culture, making sure they are made with the best ingredients possible, offering them at a reasonable price, and of course, packing them full of flavor. Whether you're in search of the tastiest fish sauce, or a go-to rice paper, we know that our products will become an essential part of your pantry.