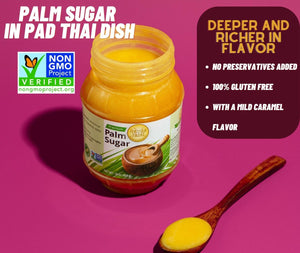 /count/ sold in last /time/ hours.
Rice Stick 5MM  2 Palm Sugar 1 Tamarind Concentrate 1 Fish Sauce 1 PAD THAI STARTER PACK BUNDLE: 4 items in this bundle! You get 2 p...
| | |
| --- | --- |
| Rice Stick 5MM  | 2 |
| Palm Sugar | 1 |
| Tamarind Concentrate | 1 |
| Fish Sauce | 1 |
PAD THAI STARTER PACK BUNDLE: 4 items in this bundle! You get 2 packs of  Four Elephants Premium Rice Stick 5mm(1LB), Palm Sugar (1) 16 oz,  1Tamarind Concentrate Jar and Four Elephants Premiush Fish Sauce Glass Bottle
AUTHENTIC PAD THAI INGREDIENTS: 150 gram Four Elephants Rice Stick 5mm, 1 tbsp Chopped Preserved Radish, 1 tbsp Dries Salted Small Prawn, 2 tbsp Chopped Shallots, 1 tsp Minced Fresh Garlic, ¼ cup Diced Extra Firm Tofu, 2 tbsp Vegetable Oil, 30 gram Chopped Chives 

AUTHENTIC PAD THAI RECIPE INSTRUCTIONS: Step 1: Soak Four Elephants 5mm Rice Noodles in warm water for 30 mins. Step 2: To make the sauce, melt and caramelize the palm sugar Step 3: Add water to stop the caramelization Step 4: Add fish sauce and tamarind and bring to a simmer. 

Step 5: Scan the QR code in the Starter Pack Box for the Authentic Pad Thai Dish to get the Full Ingredients List and Recipe Instructions. Four Elephants Authentic Asian Cuisine!
You will be responsible for paying for your own shipping costs for returning your item. Shipping costs are nonrefundable. If you receive a refund, the cost of return shipping will be deducted from your refund.