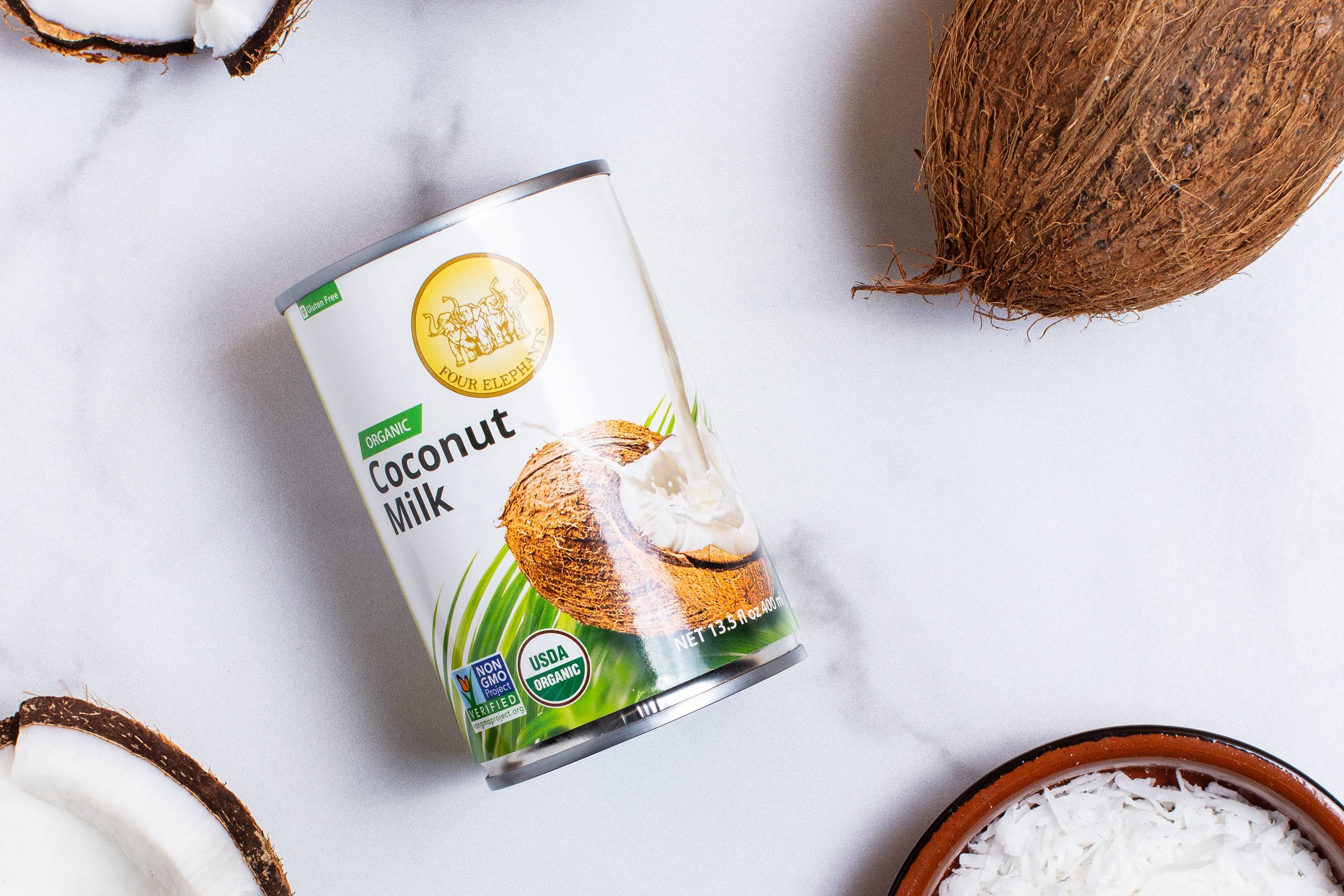 5 Unexpected Uses For Coconut Milk

If the only thing that comes to mind when you think of coconut milk is curry dishes, you're missing out! Coconut milk is a flavorful and versatile pantry staple with a wealth of possibilities. And as an added bonus, it's good for you! Coconut milk is known to aid in weight loss, help prevent heart disease, and boost your immune system, making it a guilt-free dairy substitution. At Four Elephants Foods, our coconut milk is organic, non-GMO, and comes directly from Thailand. Creamy, smooth, and decadently fresh, here are five unexpected uses for coconut milk.
Looking for non-dairy dip and sauce substitutes? Using coconut milk makes it possible to create indulgent and creamy options that are even better than the "real" thing. You can use coconut milk as a replacement for heavy cream when making your go-to creamy sauces, like alfredo or vodka sauce. And if you're feeling adventurous, you can make your own, delicious dipping sauces by mixing coconut milk with all of your favorite sweet and spicy flavors.
Whether you're vegan, lactose intolerant, or just looking to switch up the way you enjoy ice cream, coconut milk is the perfect base. You can easily swap out regular milk for coconut milk to create creamy, dairy-free ice cream recipes. Maybe you're into the classics like chocolate, or strawberry, or maybe you're craving something flavorful like mint chocolate chip, or salted caramel. Whatever you're in the mood for, there are a plethora of simple and tasty recipes online to fulfill all of your dairy-free dreams.
Smoothies are the perfect go-to snack or meal for those who are short on time or are simply looking for a healthy and delicious treat. You can even elevate your smoothie game with extra creaminess, by adding coconut milk to your recipe. You can pour directly from the can into your blender, or even freeze your coconut milk in an ice tray in advance. Whatever your mood, there are endless flavor combinations that are sure to keep you satisfied.
Stuck in a rut with the same old cocktails? Coconut milk is a tasty addition to a wide array of unique drinks . Update a classic like a pi ñ a colada, or venture out and try something new! Whatever your taste buds are calling for, there's a coconut cocktail recipe that's sure to help you unwind, relax, and enjoy.
By now, it's obvious that coconut milk is a delicious, dairy-free milk substitute. So it's no question that it's the perfect ingredient for rich and decadent desserts. From puddings and custards to cakes and cookies, there is no shortage of scrumptious coconut milk desserts.

Keeping your pantry stocked with Four Elephants Foods Organic Coconut milk ensures that you're always a few steps away from enjoying your favorite treats. With two, four, and even six-pack options, it's easy to stay stocked up with your new favorite pantry staple. Order online now for delivery right to your doorstep and explore all of the creamy and delicious ways to enjoy our gluten-free, non-GMO, organic coconut milk.